Amplifying the voices of young Orang Asli women
This project Amplifying the Voices of Young Orang Asli Women is a collaboration with young Orang Asli women from various tribes in Malaysia. It aims to amplify their voices through storytelling as they articulate their lived realities and demand for equality and rights for their community.
Through a unique participatory and creative production process, the young women tell stories of the Orang Asli identity, their community's struggles and their vision for a better future. By telling their stories and participating in its creative process, the Orang Asli young women have been empowered to rise up for equality. They are claiming more spaces for discourse to give visibility to their community, thereby enriching our narrative on nationhood and inspiring more young women from their community to speak out and share their stories.
This collaboration was initiated though a series of engagement programmes through film bootcamps, human right and gender workshops and story labs over the course of three years from 2018-2020. The three-year collaboration with the young Orang Asli women resulted in two successful film productions, a book publication and a public performance.
Filming workshops in the village (2020)
Sixteen young Orang Asli women had the opportunity to develop a wider perspective of indigenous rights and identity through knowledge-sharing sessions with community elders. They reflected on the stories of their community's struggles and resilience and passionately expressed their hopes for change on-screen. A series of hands-on exercises on filmmaking followed whereupon each participant was then partnered with a mentor in key areas of directing, camera, sound, production design and documentation and set out to create their own short films.
Impact
Confident voice: The women developed self-confidence, teamwork and leadership skills by taking part directly in the creative process of the film production.
United voice: The knowledge-sharing sessions with community elders and filming activities built solidarity among the women and impressed on them the importance of indigenous rights.
Resilient voice: A few of the women are now creating content for their YouTube channels to express their views and to counter gender stereotypes and social norms that discriminate against their community.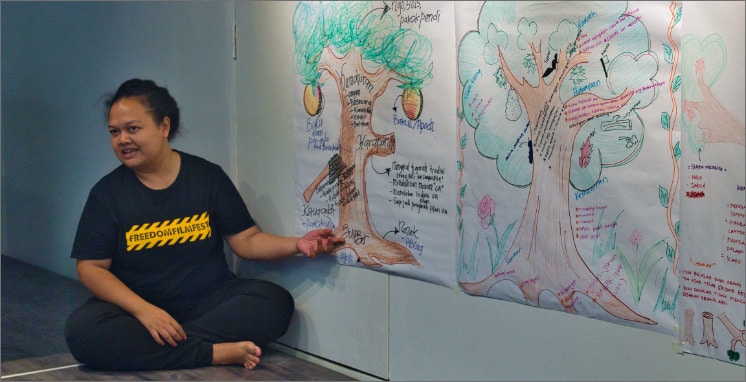 Twelve young Orang Asli women identified their story theme as "Apa Kata Belia Wanita Orang Asli" in hopes of sharing stories about their identity, traditional knowledge and history. They explored the story theme by documenting their history and culture through interviews and photography in their villages. They then created narratives on what mattered most to them in their short films using a collaborative storytelling approach, with guidance from storytelling lab facilitators.
Impact
Compelling storytellers: The women used their newfound skills in data collection, interviewing and basic photography to develop their stories.
Changemakers: The women took ownership of the process in self-reflection, research and narrative development for their films.
Human rights, gender and media workshop (2019)
Twenty-seven Orang Asli youth, specifically young women, learnt about human rights-based approach and how they could use film as a tool to speak out, engage and advocate for their rights. There were also sessions on gender to help them understand the gendered elements of their experiences. A few of them took up roles as leaders in this national-level workshop.
Impact
Rise up for change: The women are actively seeking for a role to contribute to their community as they recognise themselves as agents of social change.
Rise up for justice: The women will collaboratively produce their own short films to reach and educate others on their lived realities.
Workshop on storytelling (2018)
Nineteen young Orang Asli women documented their personal experiences on education and learning. Using theatre as a strategy for community empowerment, they organised their experiences into stories and presented them through creative expressions. Their personal perspectives of cultural values, beliefs and knowledge were included in their stories, with some presented in their own language. This workshop included the participation of community leaders as mentors.
Impact
Power in the stories: As the women verbally and creatively expressed their struggles and experiences in their stories, they gained confidence and shared their vision for equality.
Power in content creation: As the women collaboratively presented their stories through drama, song, dance and shadow play, they discovered a new opportunity for self-expression, cultural regeneration and advocacy.
Support the Orang Asli Women's Programme
Support the Orang Asli Women programme by purchasing the book (RM15.00 each) HERE
Film - Selai Kayu Yek | Roots Of My Land
A young Orang Asli woman meets a famous Orang Asli Youtuber to expose the encroachment of her family's ancestral land. Together, they find their voice and speak out.
Film - Klinik Ku Hutan | The Forest, My Clinic
Ignoring taboos, a jungle walk turns into despair for two young Orang Asli women, and into healing as they reconnect with their traditional values and identity.
Book Project - Kami Pun Ada Hak Bersekolah
We published a book written by young Orang Asli women, Kami Pun Ada Hak Bersekolah: Wanita Orang Asli Bersuara'. The series of stories celebrate the tenacity and perseverance in how they overcome challenges like bullying in school, limited access to education, and lack of proper infrastructure. Buy the book here.
Creative Performance – Belia Wanita Bersuara
This participatory, multi-art performance by Belia Wanita Bersuara showcases stories on discrimination, poverty and access to education from young Orang Asli women. Performed by the women themselves, these stories document their seldom-heard-of voices as a tool for advocacy.