If you know social change doesn't happen overnight, how do you enable change and create impact?
Meet the director who devised a five-year plan for an eight-min film.
Kartika Pratiwi, director of A Daughter's Memory, shares that she devised a five-year distribution plan for her eight-minute film. By any account, it's an extremely long lifespan for what is essentially an animated documentary for children.
Yet, after two years, she counts 45 screenings, 17 independent screenings and 11 history teachers who use her campaign's material as learning resources today.
A Daughter's Memory is a story that focuses on the early life of Svetlana Dayini, the daughter of a former leader of the Communist Party of Indonesia.
It is Kartika's first animation, but she has produced three other documentaries on the same subject. Her goal is the same: to uncover and discuss alternative histories in Indonesia's past and to memorialise and recognise survivors.
Here are some key pointers from her sharing at the Using Films for Social Impact workshop held recently by FreedomFilmNetwork on enabling change and creating impact using film.
1. Simply wanting change is not enough. Be intentional.
Until very recently, the Indonesian public did not discuss the events of 1965. For many, it's a dark, scary and ugly time in history that had wasn't acknowledged by the state or skipped over in history books.
Having a clear goal to enable discussion, she identified the enablers for this change: focusing on history teachers and students.
Given that changing the curriculum in national schools would be impossible, she narrowed down her target audience further – to history teachers from private schools.
That kept her focused on not just wanting change, broadly, but also helped set realistic goals and intentional direction.
2. Design for accessibility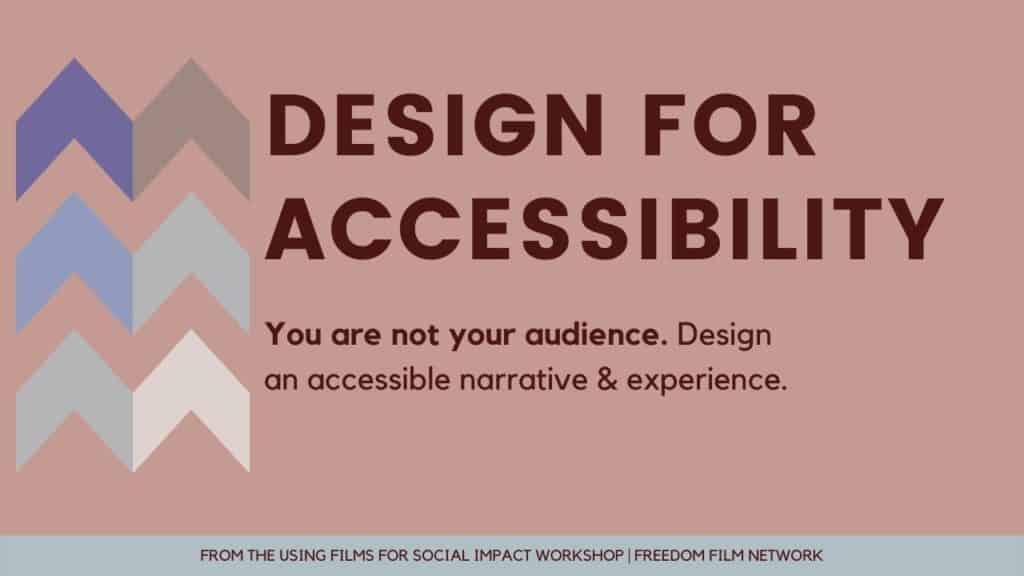 While it's hard to talk about national trauma, framing the story narrowly to a daughter's retelling of her relationship with her father opened up personal and universal accessibility.
Kartika chose oral history as a narrative method for its democratic nature. She worked with Svetlana through a participatory process to reconstruct Svetlana's memory of events and translated them into animation.
Being intentional in her narrative and delivery meant that it could serve its purpose for its intended audience – children, the next generation.
3. The community is not an afterthought
Kartika worked with two primary sets of communities, teachers and survivors. Through consultations and workshops, she worked with the Indonesian History Teachers' Working Group to develop teaching materials to discuss the events of 1965 in Indonesia with students.
With survivors, Kartika established a safe space to speak out and develop consent through participation and consultation. She worked with Svetlana for over a year throughout the production process, from interviews to editing to colour, form and shapes of tiny visual details in the animation.
Crucially, she developed risk analysis and mitigation plans as part of the process. They kept the production low-key and formed alliances with other organisations to support the production.
4. "This is not my film."
Having clarity of her goals and intended outcome influenced her process and transformed the ownership of the film.
Kartika invested in consultation and participation, a painstaking process for any director whose goal is to add on another film to a portfolio. She acknowledges that The Daughter's Memory is not hers. It's Svetlana's story and represents its community and is part of a larger collective and narrative.
The film is not a soapbox for preaching; it is a tool, not an end in itself.
5. If social change takes time, take your time
A Daughter's Memory spent a year in production, and Kartika hopes to extend its lifespan even beyond her five-year plan.
It seems counter-intuitive to not demand change immediately in the age of reactionary activism. If change takes time, take your time.
6. Have a specific vision of the future
A campaign is not a movement. One needs to leverage on existing conversations, organisations and stakeholders who have similar vision. The impact strategy for your film should have specific, measurable, action-oriented and time-bound goals. Here are six other questions Kartika shared on how to start devising an impact strategy:
Who can the film most effectively engage with?
What is this audience likely to already think about the issue?
What are the current issues, debates and perceptions like today on the issue?
What do campaigners working on this issue need?
What are the pressure points you can trigger with your story?
What do the target audiences need for real change to happen?
Do you use social films in your advocacy work? Apply for our inaugural Social Impact grant here. Deadline 31 May 2021.